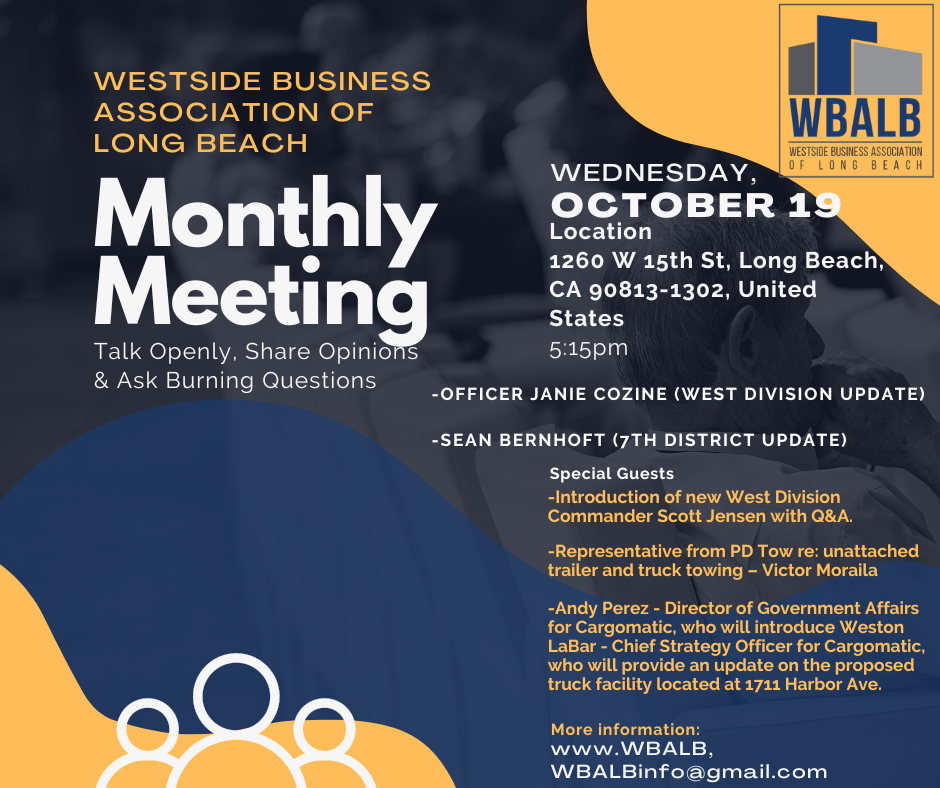 RSVP with an email to shorti2448@gmail.com
We have special guests attending. We hope you can attend. Our purpose is to keep all businesses informed of what is happening in the WBALB area.
Attached is the agenda for next week's meeting. Please rsvp on our website, social media page or by emailing the undersigned. Thank you.
Meeting Agenda:
Meeting Date: October 19, 2022 @ 5:15 pm in-person meeting
Meeting Location: Neill Aircraft
1260 W. 15 th Street
Long Beach, CA 90813
Special Guests: Introduction of new West Division Commander Scott Jensen with
Q&A.
West Division Update – Officer Janie Cozine
Special Guests: Representative from PD Tow re: unattached trailer and truck
towing – Victor Moraila
Special Guests: Andy Perez – Director of Government Affairs for Cargomatic, who
will introduce Weston LaBar – Chief Strategy Officer for Cargomatic, who will
provide an update on the proposed truck facility located at 1711 Harbor Ave.
7th District Update: Sean Bernhoft
Review 2022 Membership Drive and Update on Donations received and
membership update
Public comment
Next meeting: November 16, 2022, at 5:15 pm – Location to be announced.
---
Promoting the Common Business Interests of WBALB Members
Business owners, industrial business owners, property owners/lessees, and anyone with a common interest in Westside Long Beach Industrial within the 7th District – join together to advocate and implement positive change for the community. Together, one voice, with a mission to maximize growth and potential. The WBALB board meets regularly, joining as a stronghold and voice for the community.
All-in-one city resources to help your business succeed, local news, events, economic development reports, internal updates, and so much more.
WBALB's Area of Operation is within a Specific Parameter of Long Beach's Seventh District:
Communities within Pacific Coast Highway on the North, 9th Street on the South, 710 Freeway to the East, and Wilmington to the West.
RSVP by emailing shorti2448@gmail.com