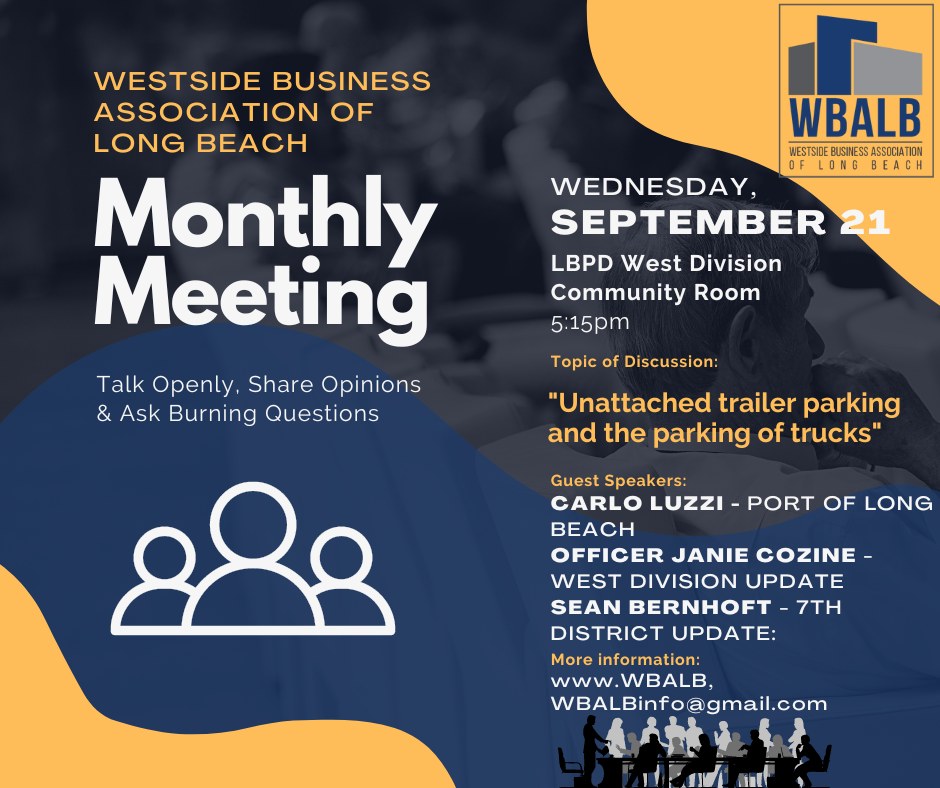 All interested are welcome to attend Westside Business Association of Long Beach's (WBALB) meeting event on September 21, 2022.
Don't miss out on our next meeting! WBLAB is holding its monthly meeting on Sept. 21st and giving an open invitation to all business and property owners with an interest in maximizing the potential within our Westside Long Beach parameters.
Guest Speakers & Agenda:
-Port of Long Beach – discussing new information on available trailer parking and the parking of trucks.
-LBPD representative
– West Division Update
– 7th District Update
September 21, 2021
5:15 pm
LBPD West Division Community Room
1835 Santa Fe Ave.
Long Beach, CA 90813
Promoting the Common Business Interests of WBALB Members
Business owners, industrial business owners, property owners/lessees, and anyone with a common interest in Westside Long Beach Industrial within the 7th District – join together to advocate and implement positive change for the community. Together, one voice, with a mission to maximize growth and potential. The WBALB board meets regularly, joining as a stronghold and voice for the community.
All-in-one city resources to help your business succeed, local news, events, economic development reports, internal updates, and so much more.
WBALB's Area of Operation is within a Specific Parameter of Long Beach's Seventh District:
Communities within Pacific Coast Highway on the North, 9th Street on the South, 710 Freeway to the East, and Wilmington to the West.
For more information on WBALB or to apply for membership, please visit our website at www.wbalb.com